Call statistics help you improve how your teams' performance is analyzed. 📈 Filter your call statistics to analyze the performance of a user or a group of users for example. You'll then be able to more effectively monitor essential performance indicators on your teams and produce detailed reports. 📝



Step 1: Understand your call statistics

🖥️ From your dashboard, go to the "Call statistics" section of the "Statistics" menu.

This will allow you to view all statistics on your calls 📊 :


Number of outgoing and incoming calls

 

(answered and missed, processed or not) over the given period
Duration of all outgoing calls and incoming calls picked up

 

over the given period
Service Level :

 

rate of answered calls
Wait time :

 

average waiting time before a call is answered
TMC in :

 

average communication time for incoming calls
TMC out :

 

average communication time for outgoing calls


You also have the option of viewing your statistics as graphs 📈. Change the type of graph (line, area or bar) along with the call data to display, then select the interval for which you want to display this data.

You can also view call statistics by user. Choose the data to display by user then drag your cursor over the user's graph to see their call details: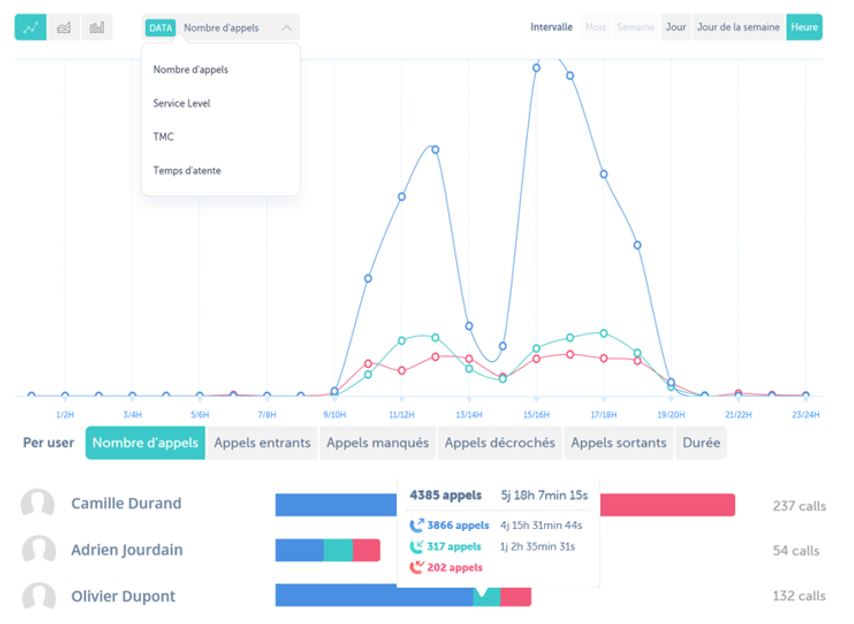 Step 2: Filter your call statistics
1 - Filter all call statistics
You have the option of filtering your call data so that only activity on your IVRs or direct lines over a given period is displayed.
To do this, click on "modify filters" and choose whether you want to display statistics for all calls, only IVRs, only direct lines, or customize your filters, then define the period for which you want to display data: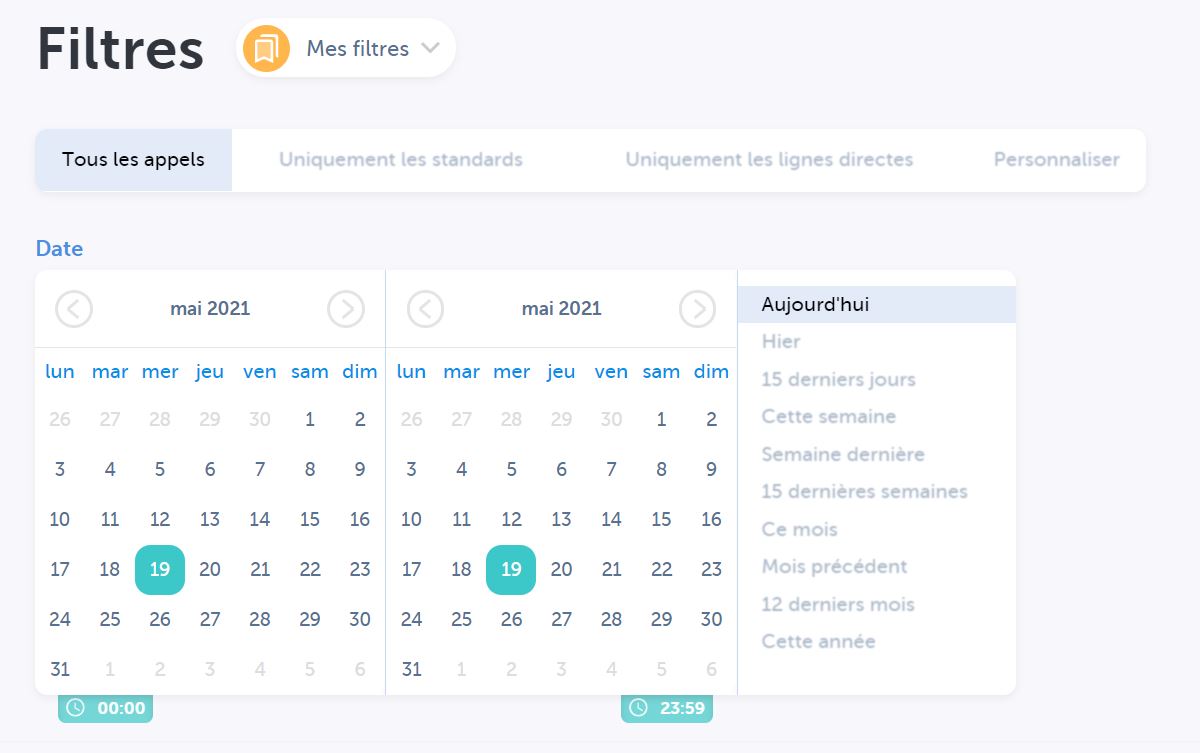 You can filter calls even more precisely, deciding to display or exclude certain calls, defining how you want transfers to be considered, or even filtering calls by assigned tags 👁️ :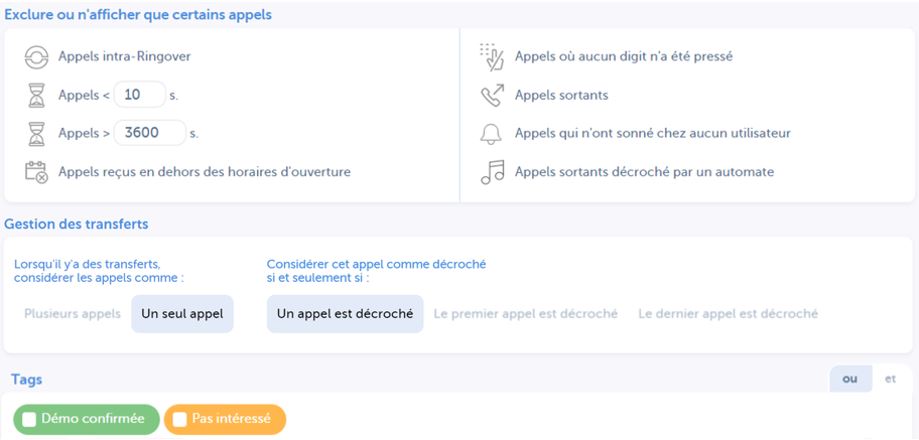 2 - Filter call statistics for your IVRs /span>
You can also expand an IVR's branching structure and filter by one or more transfers, or even a particular number if there are several.
To do this, click on "More" next to the name of the IVR, choose the transfer(s) and the number(s) for which you want to refine your filters, then select "Refine search":


If you choose to display only IVR call data, 3 additional types of data will be suggested 📊 :
lthe reasons why your calls were missed
the average time before call abandonment (and the maximum time before abandoning)
call statistics for users associated with your IVR


Here are the terms used for the call statistics of users associated with your IVRs 💬 :
OUT:

 

lthe number of outgoing calls made with the IVR number
ANSWERED:the user answered the call
TOOLATE: 2 users picked up at the same time
CALLANSWERED: the user missed the call but the call was picked up by another user
REJECTED: the user rejected the call
INCALL: the user was already on a call
SNOOZE: the user was unavailable
PLANNING:

 

the call came in outside the user's hours
NOTCONNECTED: the user was disconnected

Step 3: Reading the heatmap
The heatmap 🌡️ is a feature enabling you to monitor your activity at a glance, giving you an hourly view of your service level over the week. Analyze and plan ahead for your resource requirements and improve the quality of your service! 🚀
Want to access this feature? Head to the "Statistics" section in your dashboard.

On the heatmap graphic, select the indicator you want to view: number of calls, incoming calls, missed calls, outgoing calls, Service Level, or wait time:


The heatmap will then display the data with an hourly 🕐 over the week.

The color code means that you can identify any spikes (or drops) in the performance of your service (missed calls, service level, wait time). 📅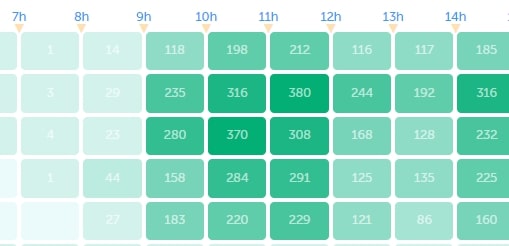 Now you know how to analyze your call statistics to continuously improve your teams' performance. 🎉