You can use Snooze to prevent interruptions on your Ringover account. This mode cuts sound and blocks calls and messages so that you won't be disturbed.


Activate and use Snooze

💻 Sign in on https://app.ringover.com/. Click on the "Snooze" icon at the bottom right of your dialer. You will then have the option to set your Snooze status.

Once Snooze has been activated, you can see for how long you've been unavailable thanks to the timer, which will appear next to the "Snooze" icon. This means you can improve your time management: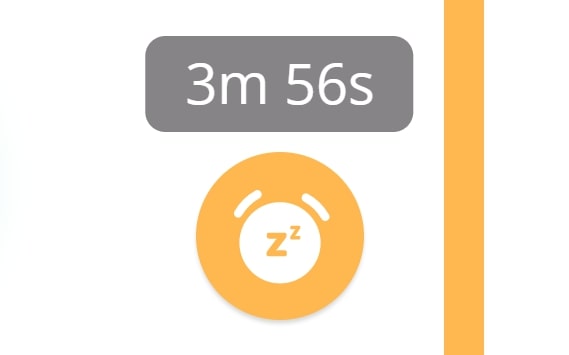 Select how long you want to activate Snooze by clicking "Set a timer". ⏱️ Again, you have the option to customize the reason why you do not want to be disturbed: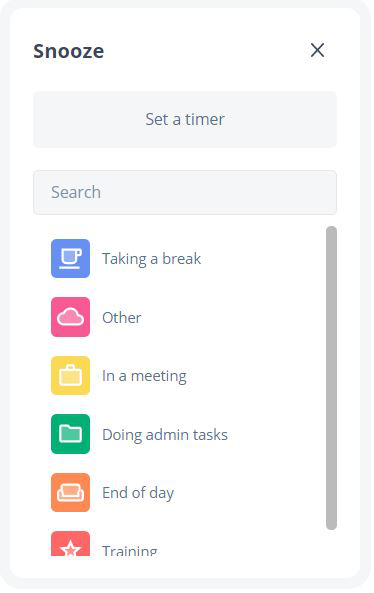 💡 You will have the ability to apply these settings directly to other users.

Disable Snooze simply by clicking on the "Snooze" icon again, then "I'm available".



Customize the Snooze pattern

⚠️ You must be an account administrator to access this feature.

You have the ability to add custom "Snooze" patterns for your employees. This way, they can be more specific when stating the reason why they do not want to be disturbed.

To do this, go to  your dashboard. In the "Others" section of the "Configuration" menu, click on "Create a snooze".

You can then indicate the snooze pattern you want in French, English and Spanish, and choose an icon and a color to represent it. Click on "Create snooze" .

The new personalized "Snooze" will then be available to all your employees.

Now you're ready to start using Ringover Snooze mode. 🎉