To make and receive calls with your Ringover number, you can use
the web application
app.ringover.com 🖥️ or
the mobile app
for iOS or Android 📱.
Sign in to your Ringover account on
app.ringover.com
or with the smartphone app by entering your username and password.
Make a call
1 – From your list of contacts
To make a call 📞, select a contact from your contact list. Clicking their number will automatically place it in the space allotted. Then, you will be able to call your contact.
2 – By entering your contact's name or number
You can also enter your contact's name or number in the space provided on
the smart dialer
.
With the first letters or numbers entered ⌨️, corresponding contacts will be suggested to you. Click on the name 👤 you're looking for to start the call automatically.
💡 By searching by group, you can very simply view the availability of your colleagues in real time for better daily collaboration.
Answering an incoming call
Whenever you have an incoming call, a call notification will appear 🚨 on your desktop and/or your mobile. Just click on the green phone icon to begin the conversation 🔗.
💡 If ever you can't answer an incoming call, you can use the quick reply by SMS feature. To do this, you'll need to have access to the "SMS" option. With this feature activated, when you receive an incoming call, simply hover your cursor over the little red telephone icon to show the "SMS" button: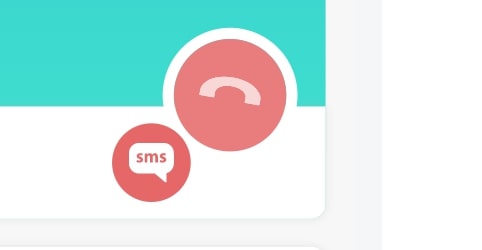 Click on the "SMS" button and select the quick reply that you want to send to your caller, or type in a personalized message: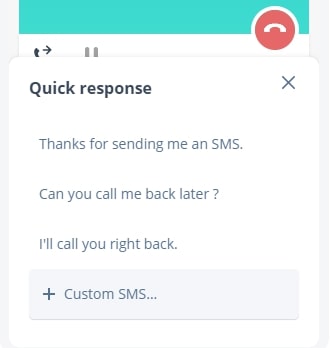 Now you know how to make and receive calls with Ringover 🎉