With Ringover, you can perform your analyses by targeting a service or a user. You can filter and export your call logs in order to have access to
advanced statistics
by user, group or number, or to evaluate your
agents' productivity
.
Step 1: Filter your call logs
💻 Go to
https://dashboard.ringover.com/logs
.
Click on "Modify filters",
select the data
📑 of interest and click "
Search
" 🔎: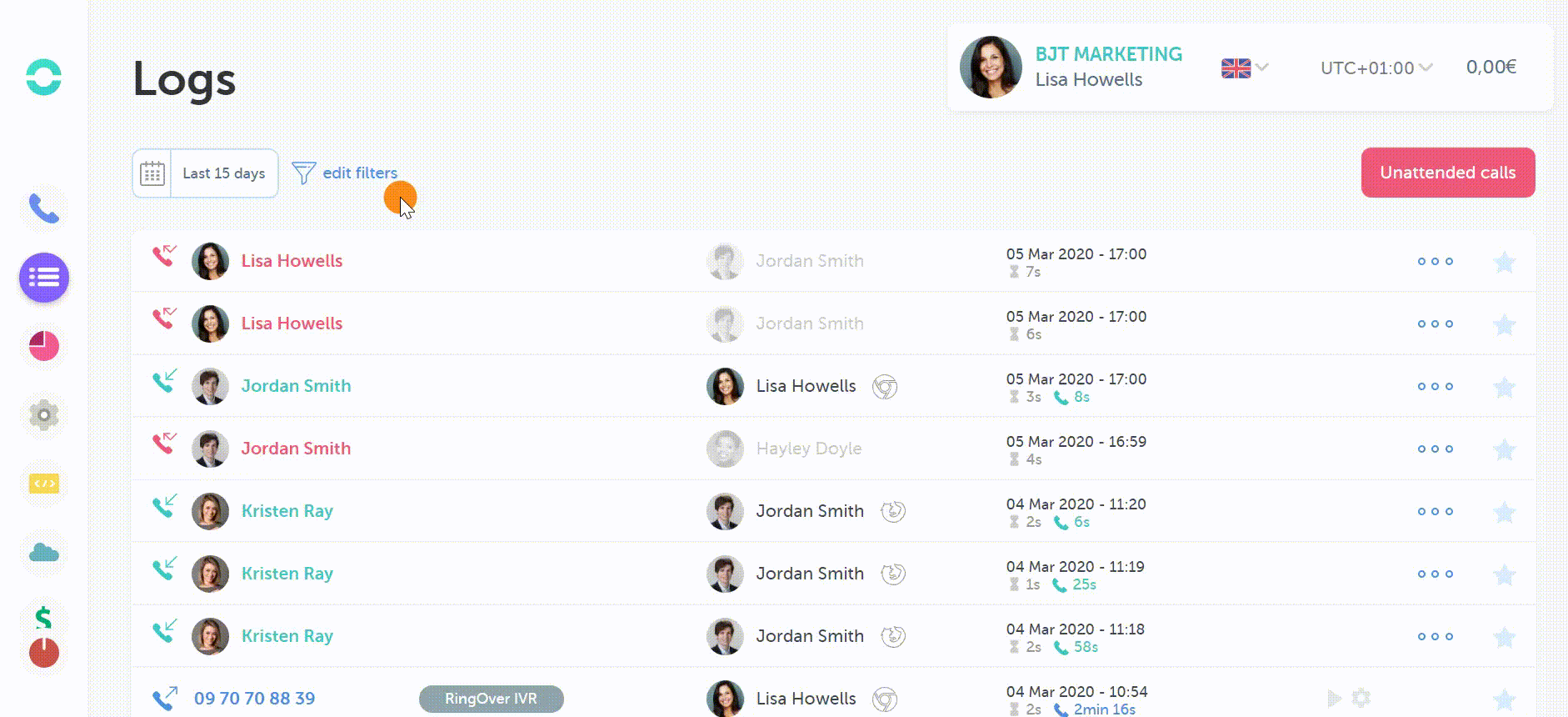 In this example, we've only selected answered calls.
You also have the ability to choose which calls you want to display or exclude. Also, if you have set up tags, you can filter your calls based on the tags assigned to them:

💡 You can filter calls by time to more easily retrieve call details.



Step 2: Save your search criteria
You can save 💾 your complex search criteria to quickly find call details on a given group or user.
Click on the "Save filter" button to save:
Step 3: Export your call logs
You can
 

export your call logs
in csv format in order to
process them in Excel
.
To do this, after choosing your filters, click on "
Export csv
"📤 instead of "Search" 🔎 :

Next, select "Generate export". Once the export has finished, click "Download":

You'll then have access to all of your call log data in an Excel file.
Here's a breakdown of the call statuses:
ANSWERED - call answered
CALLANSWERED – call answered by another contact point (transfer following non-response)
VOICEMAIL_ANSWERED - => voicemail, but logged as answered (log as missed cursor deactivated)
MISSED – missed called
VOICEMAIL - voicemail
PERMANENT_TRANSFERED – permanent transfer
NOANSWER_TRANSFERED – transfer following non-response
BLIND_TRANSFERED – direct manual transfer
QUEUE_TIMEOUT – call abandoned when the "max. time in queue" is reached
CANCELLED – caller has ended the call / call recipient has rejected the call
FAILED – failed
OUT – outgoing call
ANNOUNCE_ANSWERED - "leave a message" with "log as missed" ticked.
ANSWERED - "leave a message", with "log as missed" unticked.
FAX_FAILED - Fax reception failure
FAX_OUT_FAILED - Fax sending failure
FAX_OUT_NOT_SENT - Fax not sent
FAX_OUT_SENT - Fax sent
FAX_RECEIVED - Fax received
INCORRECT_PINCODE – incorrect PIN code (on SVI)
FAILED - call failed
See our articles 📰
Answer rate, NPS…which customer service call indicators should I track?
5 Essential Tools for Supervising Your Team's Calls