In order to optimise the quality of your calls we recommend prioritising flow on your routers.
Here are the different elements constituting Ringover's infrastructure:
● SIP Proxy
SIP Proxy servers are used for the authentication and routing of SIP packets.

● Media
Media servers are used for implementing IVRs, transcoding audio streams, conference calls.

● TURN
TURN servers offer an advantageous alternative: coupled with media servers, they allow tcp tunnelling on a port before rerouting to the media server.

With Ringover having at its disposal a fleet of flexible media servers, TURN technology makes it possible to establish fewer security rules. However, the client must support the turn. A failover is possible if the TURN servers cannot be reached.

● API & Front
API servers are used for processing CDRs, contacts, group conversations, text messages, etc.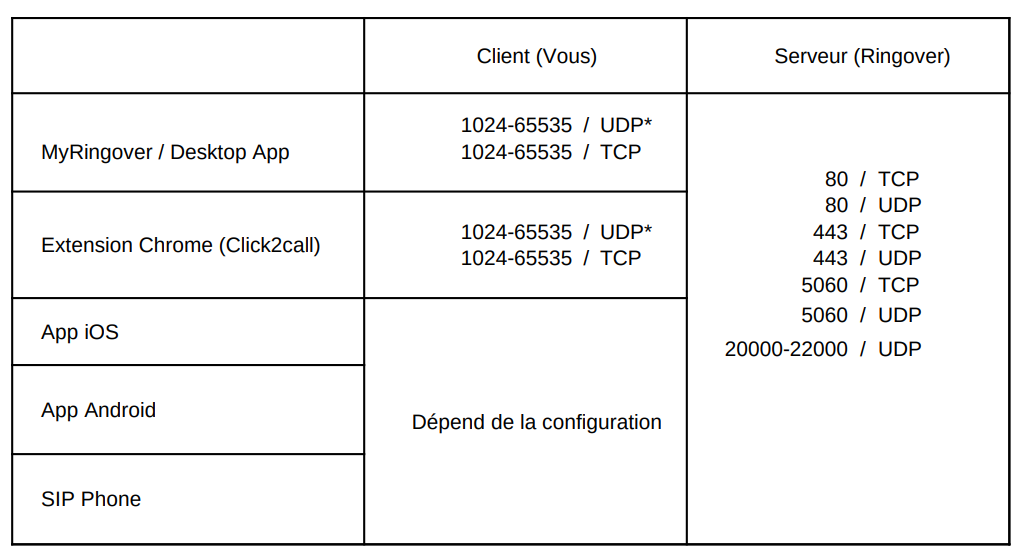 The ports to use on the server side are:
● HTTPS / TLS → port 443 (TCP)
● TURN → port 80 et 443 (TCP et UDP)
● RTP → port 20000-22000 (UDP)
● SIP → port 5060 (UDP et TCP) ou 443

Here are Ringover's IP blocks:
● IP Europe
185.63.92.0/22
154.44.180.0/24
45.151.184.0/22
62.4.10.0/24

● IP Load Balancer / WEB Europe
185.16.110.0/24
51.159.75.59
51.159.24.24
51.159.26.141
195.154.68.85
51.159.74.199
51.159.24.36
195.154.70.68

● Miami
89.187.173.130
89.187.173.131
89.187.173.132
89.187.173.133
89.187.173.134
212.102.61.0/27

● Singapore
143.244.33.113
143.244.33.114
143.244.33.115

● Sydney
143.244.63.109
143.244.63.110
143.244.63.111
143.244.63.112
143.244.63.113
143.244.63.121

● Dallas
212.102.40.200
212.102.40.201
212.102.40.202

● NewYork
138.199.41.192/27

● Chicago
143.244.61.96/27

● Atlanta
138.199.2.96/27

Finally, Google's STUN servers can be used for NAT detection:
• stun.l.google.com:19302
• stun1.l.google.com:19302
• stun2.l.google.com:19302