The Ringover integration in the HubSpot CRM allows you to:
- Synchronise your HubSpot contacts in Ringover
- Call your clients in 1 click by clicking on their phone number in HubSpot
- Have logs of all calls in your client files
- Listen to recorded conversations (you'll need to activate this option beforehand in your Ringover account) in HubSpot
- Listen to your clients' voicemails in HubSpot
- Synchronise your notes/call comments
- Synchronise your call tags

⚠️ You must be a HubSpot Superadmin for the connection procedure. You can then restore your initial rights.

Notes:
You must have a Power Ringover account 💳 to take advantage of this integration.
This integration must be carried out by a Ringover account administrator 👨‍💼 with Dashboard access.
Same email address should be used on both platforms in order to ensure that calls are logged correctly.
Step 1: Activation

💻 Go to https://dashboard.ringover.com/integrations.
Then click "activate" across from "HubSpot".

Next select "Grant Access" ✅ before passing to the captcha.

Lastly, configure settings ⚙️ as needed. If you want to enable contact syncing, you'll need to complete the "Customized URL" field. The link to be inserted is the URL to copy and paste when you're signed into your main Hubspot page.

From now on, your call logs will appear in your HubSpot contact files.

You can also call your clients easily click to call

To activate this option, carry out the following steps 👉 https://www.ringover.co.uk/support/integrating-ringover-in-google-chrome
Step 2: Configuration of the integrated dialer in HubSpot

To activated the integrated Ringover dialer in HubSpot, you'll need to access Hubspot marketplace.

For this, click on the "Marketplace" icon in the upper-right corner of your HubSpot interface. Then, select "Application Marketplace":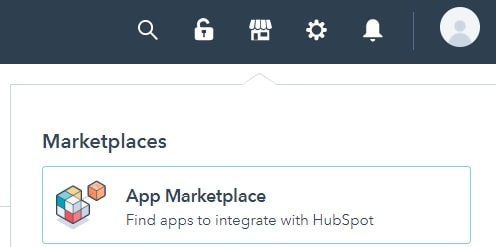 Enter "Ringover" in the search bar, then click "Install application:


All done! You'll now find your Ringover dialer integrated into HubSpot. This means you'll be able to make phone calls without exiting your HubSpot interface! 😉


Make sure that Ringover is set as your call provider before making a call using the integrated Ringover dialer. Simply open a contact's information record, click on "Make a phone call", and then click "Open call options". Then, select "Ringover":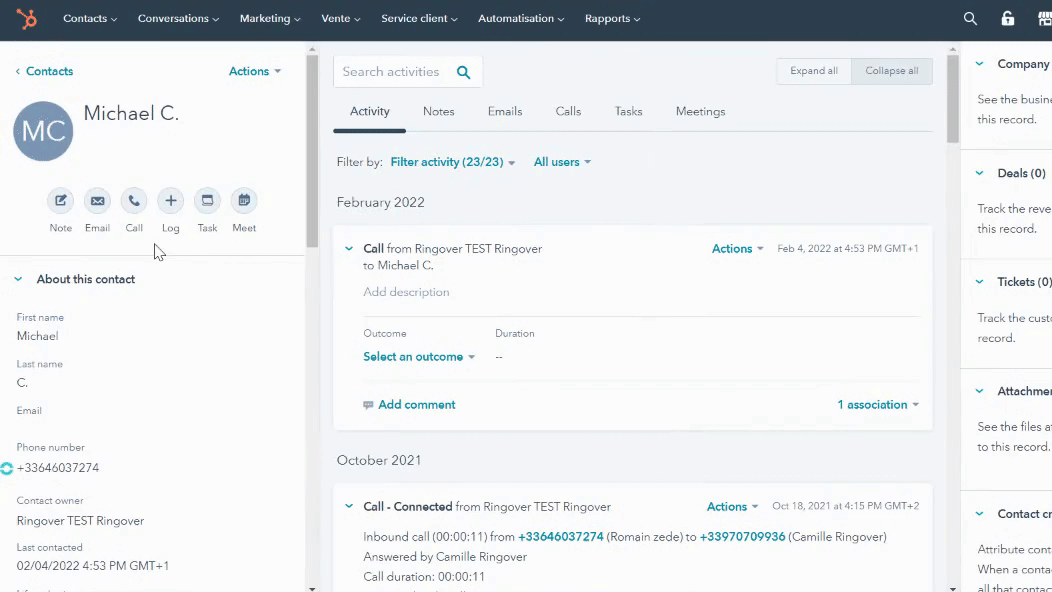 Next, all you need to do is click on "Make a phone call" when you're on the contact's information record, then select the little telephone icon next to your contact's phone number to open the Ringover dialer: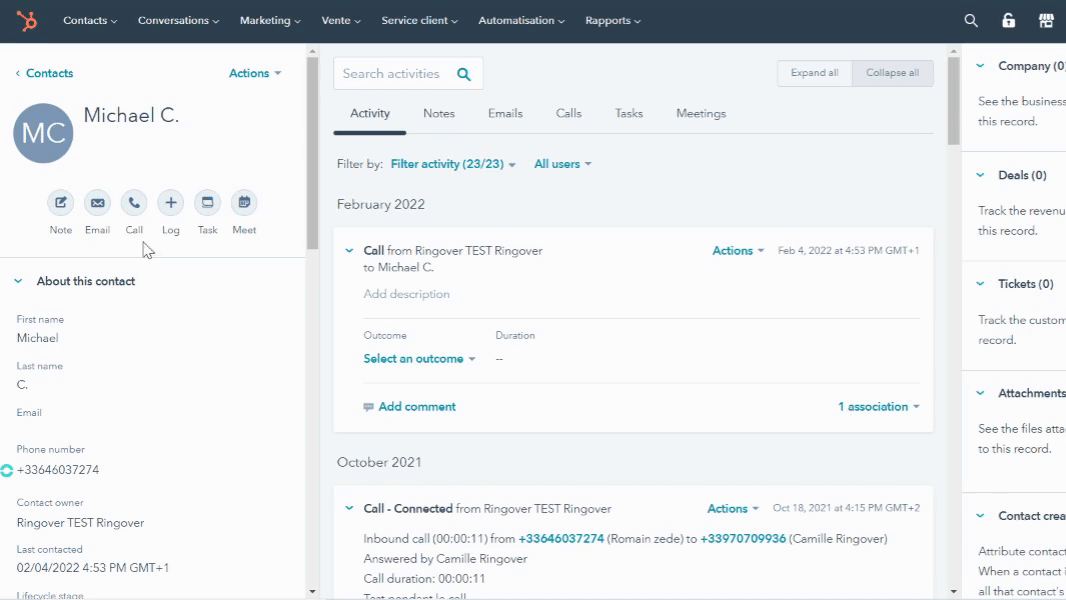 Your Ringover integration is now complete in HubSpot! 🎉